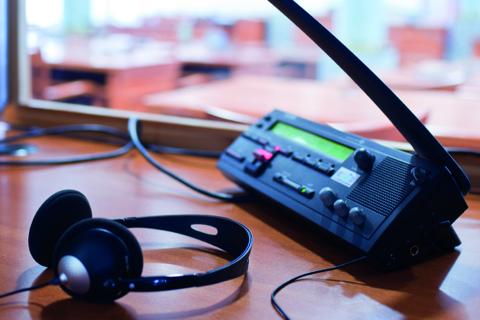 What types of interpreting services do we offer?
1 – Liaison interpreting
As the name suggests, the liaison interpreter's role is to act as a liaison between two parties that don't speak the same language. The speaker(s) have to stop to give the interpreter time to translate the content of the conversation. This technique is commonly used at business or training meetings.
2 – Consecutive interpreting
The consecutive interpreter's role is similar to that of the liaison interpreter. He sits near the speakers, follows the content of the conversation, takes summary notes and uses these to provide a summary translation of the content of the conversation. This type of interpreting is very much on the decrease as it is being replaced by simultaneous interpreting. This service is very similar to liaison interpreting, but is more expensive.
3 – Telephone interpreting
The telephone interpreter provides interpreting by telephone. The idea is simple: The service provider sets up a telephone conference, for example, between two or more people who don't speak the same language, and places a liaison interpreter between them who will translate the conversation bit by bit. The service is the same as liaison interpreting, except that the speakers are not physically present.
4 - Video remote interpreting
Interpreting by video is a natural development of telephone interpreting, which only became possible with the widespread use of the Internet. Today, video conferences for two or more participants can be set up simply by clicking on the Internet using various programs and tools, some of which are free.
In addition to a sound knowledge of the language, the interpreter must specialise in the technical vocabulary in the area concerned:
business interpreting (at trade shows, by telephone, welcoming foreign partners)
scientific interpreting (presentations by researchers)
legal interpreting (representation before the courts with a sworn interpreter)
search for foreign partners
We provide interpreters mainly in those countries in which our group is represented by a subsidiary or sales agency: 
Germany, Austria, Belgium, Denmark, Spain, Italy, Luxembourg, Netherlands, Portugal, United Kingdom, Switzerland
Optilingua works in interpreting in the following languages especially:
Arabic
Bulgarian
Chinese
Croatian
Czech
Danish
Dutch
Finnish
French
German
Greek
Hungarian
Italian
Japanese
Korean
Norwegian
Polish
Portuguese
Romanian
Russian
Serbian
Slovak
Slovenian
Spanish
Swedish
Thai
Turkish
Ukrainian
...